---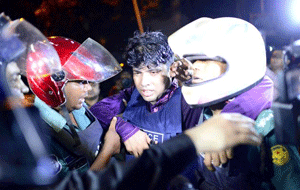 The attack on a cafe in the Bangladeshi capital left 26 people dead including six armed attackers, the Bangladesh army said on Saturday, most killed with sharp weapons.
Army Brigadier General Naim Asraf Chowdhury told a news conference 13 people were rescued including one Japanese and two Sri Lankans.
The army concluded an operation to clear the cafe on Saturday after a 12-hour siege that began when gunmen stormed the restaurant, which was popular with foreigners, on Friday night.
Twenty foreigners were killed by their captors after being taken hostage at a cafe in the Bangladeshi capital Dhaka and most of the victims were either Italian or Japanese, an army officer said on Saturday.
"All 20 of the hostages who were killed were foreigners," Lieutenant Shahab Uddin told AFP. "Most of them were Italian or Japanese," he added without giving an exact breakdown of the toll.
Officials had earlier said that six gunmen were killed when security forces stormed the cafe on Saturday morning while two police officers were slain in a firefight that erupted at the beginning of the siege on Friday night. (REUTERS)