---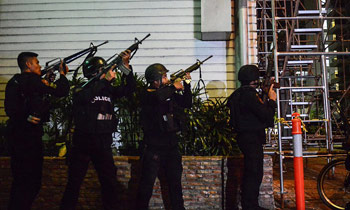 At least 37 people have been killed after a 'white, English-speaking' gunman attacked a casino in Manila, stole £1.7million in betting chips and set fire to tables before burning himself to death.
It is understood many of the victims were women who suffocated due to smoke inhalation as crowds battled to get to the exits.
Witnesses said the gunman, who had an assault rifle, entered the Resorts World Manila casino in Pasay City, Philippines, shortly after midnight before opening fire on betting terminals and televisions.
It sparked mass panic and the man was then seen pouring fuel over tables and setting them ablaze while gamblers were fleeing for their lives.
Explosions were also heard coming from the tourist hotpot and bloodied victims were seen being stretchered out of the building. (Daily Mail)