---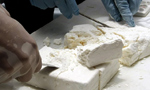 The Police Narcotic Bureau (PNB) today seized over 1.2 kg of cocaine worth around Rs.20 million from a land in Ragama .
Police on Sunday arrested eight Nigerian nationals and two Sri Lankans with 222 grams of cocaine, in a joint operation carried out by the PNB and the Special Task Force (STF).
Police said the cocaine seized today was recovered from a land near the residence of the suspects arrested earlier.
They said another Nigerian national had fled during the raid and Police suspect that he may have hidden the drugs in the land. The PNB is on the lookout for the escaped Nigerian.