---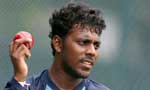 National Cricketer Tharindu Kaushal who was reported by the International Cricket Council (ICC) for his bowling action recently, successfully completed his official bowling test at the ICC accredited testing centre in Chennai, India yesterday.
Issuing a media release, the ICC said that Kaushal was accompanied by Piyal Wijetunge, the national spin bowling coach and Jerome Jayaratne, the head of coaching and interim head coach.
The test was carried out for both his variations – the off-spinner and the 'Doosra,' though he was only reported for the 'Doosra'. However the ICC reserves the right to test all actions of a bowler once reported, the ICC said.
The outcome of the test results will be notified to the SLC by the ICC authorities within 14 days.