---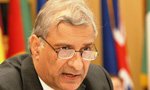 Commonwealth Secretary General Kamalesh Sharma arrived in Sri Lanka this afternoon on a five day official visit, External Affairs Ministry said.

It said he would remain in the country till Wednesday (29).

He is to brief President Mahinda Rajapaksa, who is the current Commonwealth Chair-in-Office, on the achievement of objectives and implementation of work set at the Commonwealth Heads of Government Meeting (CHOGM) in Sri Lanka in November 2013.

The Secretary-General will also meet other members of the Government of Sri Lanka, including the Minister of External Affairs, Professor G L Peiris.

During his five-day visit, the Secretary-General will also review the implementation of various initiatives being undertaken as part of his Good Offices work to support Sri Lanka's national development and post-conflict plans, and will take the opportunity to meet with the Chairperson and Commissioners of the Human Rights Commission of Sri Lanka; the Commissioner of Elections; and, representatives of civil society organisations.

Mr Sharma will travel to the Northern Province for the first time as Secretary-General where he will spend the day in and around Jaffna to review first-hand post-conflict developments, current priorities and ongoing challenges.