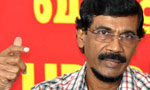 The Janatha Vimukthi Peramuna (JVP) today opposed to the Presidential move to extend the tenure of some Local Government (LG) bodies by six months and urged the government to hold the elections for these bodies forthwith under the existing electoral system.
JVP General Secretary Tilvin Silva said the elections for Local Government bodies were delayed by the government because of the issues between the main two parties in it and also intraparty issues of the Sri Lanka Freedom Party (SLFP).
"It is evident that even the government doesn't have one opinion on how to hold local government election. Prime Minister in Parliament said it would be held before New Year in April but today, the President has announced the extension of tenure of some 21 LG bodies," he told a news conference.
He said the pro-Mahinda Rajapaksa faction of the SLFP and the pro-Maithripala Sirisena faction also had difference of opinion on how to hold the election.
"They simply want to find the best electoral system to defeat the other faction," he said.
Mr. Silva said interparty or intraparty issues should not affect the electoral system of the country or withhold the people's right to practise democracy to elect their representatives.
He said unlike Parliament, LG bodies were the closest to the people and therefore, it was against democratic values to keep postponing the election.
"The government keeps coming up with various reasons as to why it couldn't hold elections right away. If there is not enough time to prepare a new electoral system, hold it according to the existing system. With the new Constitution scheduled to be introduced next year, the government can implement a new electoral system applicable for each and every election in the country," he said.
Mr. Silva said they were not deterministic about one particular electoral system and that a new system should be made with all the good qualities of each electoral system.
"This should take time. If the election is held under a new system, political parties should be given adequate time to adjust to it," he said.
(Lahiru Pothmulla)