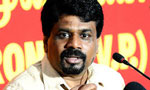 The JVP today urged the government to postpone the general elections to the first week of September so that it won't affect students sitting the GCE Advanced Level examination.
JVP Leader Anura Kumara Dissanayake told a rally in Malabe that the date had been fixed for the polls is the earliest possible day in accordance with election laws. He therefore urged the government to consider re-scheduling the election to early September.
The JVP leader said nearly 200,000 children would sit this year's Advanced Level Examination and questioned as to how they could concentrate on studies amidst loud speakers, rallies and processions. "The fixing of dates for the election it self show how sensitive the present rulers are towards issues pertaining to ordinary citizens of this country," Mr. Disssanayake said.
He said none of these issues would have arisen had the Parliament been dissolved just after the enactment of the 19th Amendment as the election would have been completed by now.
Referring to investigations on corruption, Mr. Dissanayake said his party would come out with some shocking details on corrupt acts of the Rajapaksa administration and the preset regime. He said he too possessed files on corruption. Elaborating more on the subject the JVP leader charged that both President Maithripala Sirisena and Prime Minister Ranil Wickremeisghe were sweeping all investigations under the carpet while the former President was also influencing the rulers to do so.
(Yohan Perera)