---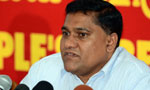 Lashing out at the move by President Maithripala Sirisena and the government to appoint Sri Lanka Freedom Party (SLFP) members as ministers, the Janatha Vimukthi Peramuna (JVP) said yesterday that the government had actually appointed robbers and corrupt persons as ministers instead of arresting them.
"It is an act against the will of the people," said JVP Propaganda Secretary Vijitha Herath.
He stated that this act was completely contrary to the pledge given by the present regime to appoint ministers on a scientific basis.
Mr. Herath added that the government had failed to honour many pledges given by it under the hundred day programme.
He said it was ironic that the SLFP accepted ministerial portfolios while holding on to the opposition leader's post.
(YP)