---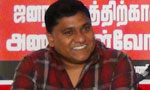 Gampaha District Parliamentarian and JVP front liner Vijitha Herath today said voters in the country were intelligent enough to understand the message of the JVP when it appealed to them to defeat President Mahinda Rajapaksa and replace the UPFA regime with a people friendly government.

Responding to a journalist at yesterday's news briefing at the JVP head office, as to why the JVP does not name a candidate for JVP followers to vote at this election, Mr. Herath said JVP's fervent request from the entire country was to vote for a candidate who could defeat President Rajapaksa on January 8 and thereby topple the UPFA government.

"The message is very clear. Voters are not so naive to comprehend our message. They should already know for whom they must cast their votes to defeat President Rajapaksa and topple this government," Mr. Herath said.

"The President Rajapaksa and ministers keep saying that the opposition was in a move to destabilise the country. Who actually destabilised the country by calling an unnecessary election? Who demanded an election in the first place? This government messed up everything by calling a Presidential Election no one demanded or wanted," he said.

He added that the government has started to bribe the voter in a mega campaign with public money violating the law openly. Foods, drinks, bags of dry rations, motor cycles, tractors and money are distributed in large quantities to voters depriving the benefits of the sharp drop of price of fuel in the global market.

"If the government is so sincere and concerned about the plight of the people, it must pass the benefit of low price of fuel. The government pumps the huge profits collected from the local fuel market to fatten the coffers of the State banks, the CEB and the CPC as these institutions fund the government's election campaign.

"The government can supply petrol, diesel and kerosene to the consumer at half of the current price with a profit. As the government charges a huge tax on fuel to feed its election campaign they do not want to ease the burden of the masses," Mr. Herath charged.

Mr. Herath alleged that the government uses State resources and resources of Provincial Councils and Pradeshiya Sabhas and employees of these local government institutions in an unprecedented manner and the Elections Commissioner and Police Chief have become helpless onlookers.

Mr. Herath accused the traditional leftist parties for betraying the socialist ideals and for being servitude to the corrupt UPFA government for personal gains.

"The left old guard does not have any policy or principles. Their only concern is their stomach. They are ready to do any betrayal for their survival," Mr. Herath stressed.