---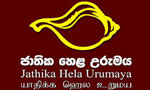 A key government ally- Jathika Hela Urumaya-has reportedly decided to quite the government citing several reasons, party sources said last night.
Accordingly, the JHU Central Committee, which met last evening, has taken this decision following a four-hour long discussion.
Meanwhile, JHU legal adviser and Western Provincial Council Minister Udaya Gammanpila could not attend the meeting as he was admitted to a private hospital following a sudden illness.
The JHU put forward some 35 proposals demanding the SLFP to implement them in order to back the ruling coalition at the forthcoming Presidential election.
The SLFP submitted its written response to these 35 proposals last Friday. At yesterday's meeting the JHU's Central Committee discussed to decide whether to remain with the government or not.
The JHU, in its demands, urged the government to prune some powers of the Executive Presidency, to uphold the Independence of the Judiciary and to strengthen anti-corruption laws.
A party official said the decision would be made public today. (Ranjan Kasturi)