---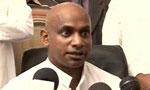 Sri Lanka chief cricket selector Sanath Jayasuriya lashed out at the national team's two senior statesmen Kumar Sangakkara and Mahela Jayawardene for making controversial statements to media and warned that he might have to leave the senior players out of the meetings of the team's think-tank where strategy is discussed if the two veterans kept on disclosing their plans on public domain.
"Both of them have been in the team for so long that they should understand what to talk. There is no excuse for what they have done. I feel things are getting out of hand here. Revealing our plans to media cannot be justified. Our plans are supposed to be a surprise to the opponents" an angry Jayasuriya told "Daily Mirror" yesterday.
"By the way things are happening; we might even have to keep them out of the meetings where plans are discussed. This is setting a dangerous precedent. What they have told media are things that we had discussed at a meeting. They were just basic ideas only. Nothing was final. When they go and tell the media as if it were all their plans, it puts us in an embarrassing situation" Jayasuriya said.
"Those are decisions that the national selectors should take, not the players. If the players are going to do our job, what is the point of having selectors there at all?" he questioned.
Jayasuriya was particularly miffed about the remarks the two seniors had made about the Sri Lanka batting line-up.
Sangakkara was quoted in media as to have suggested Dinesh Chandimal should bat at number three and Lahiru Thirimanne should bat at numbers six. Jayawardene had lobbied in his media interviews to open the innings.
"The only thing I haven't done is gone down on my knees to the selectors and asked for me to be allowed to open. I have felt that's the position I should bat leading up to this World Cup. The selectors obviously have a different theory. Because the middle order isn't experienced, they wanted me to be there. But every time I have opened the batting, I have played my best cricket, been consistent and controlled the game. So we'll see. We still have three to four months before the World Cup." Jayawardene had told Cricinfo.
Jayasuriya rejected Jayawardene has requested the selectors to open the innings, but admitted that he flew out to India on Friday night to have a discussion with the players and all these possible plans were discussed at length in the strategy meetings they had.
"I flew out on Friday night to talk to the boys as our performance has obviously been a notch below their potential. I had a meeting with Captain Angelo Mathews, Sangakkara, Jayawardene and Coach Marvan Atapattu. There at that meeting, we discussed a few plans and setting the batting order was one of them. We all put our ideas in, and it all were discussed" Jayasuriya said.
"But none of them were final decisions. Only I was there and I am just one selector. I could not make a commitment without consulting other selectors. I came back to Colombo on Saturday evening, but was thoroughly disappointed to read all about what we discussed in the papers" he added.
Jayasuriya also revealed that Sangakkara did not make any objection or showed any disappointment when the decision to rest the former captain for the last two ODIs was communicated.
"I had a one to one chat with Sanga and he did not protest the decision at all. Selectors had already decided when they named the squad for the India tour to rest Sanga and Dhammika (Prasad) for the last two ODIs. Sanga keeps wickets and then needs to bat long. It is a tall order and with so many fixtures against England and New Zealand coming up, we need to manage the seniors carefully. It was a case of preserving him for the long schedule ahead rather than looking for a win at all expense" explained Jayasuriya adding that the particular decision had been clearly entered in the national selectors' selction log book when the squad had been picked. He said it was not a sudden decision in the middle of the series.
"The players can suggest plans at discussions, but the implementation of those plans will be handled by the selectors. Discussing plans with media is not the ideal way to face the challenges" said Jayasuriya. (Channaka de Silva)