---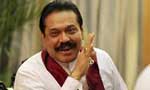 Former president Mahinda Rajapaksa said yesterday that it was the United Peoples' Freedom Alliance (UPFA) that should bear the responsibility for the alleged non-settlement of dues to the Independent Television Network (ITN) for telecasting his advertisements prior to the January presidential election, as he was the party's candidate and not an independent candidate.
Mr. Rajapaksa expressed these views soon after making a statement before the Presidential Commission of Inquiry to Investigate and Inquire into Serious Acts of Fraud, Corruption and Abuse of Power, State Resources and Privileges (PRECIFAC), with regard to losses caused to the state owned ITN during the last presidential election.
"I was asked a few questions by a police team that arrived at my residence and I answered them. The party should take complete responsibility over the matter because I was the candidate of the party. The party will take the responsibility," he said.
(Ajith Siriwardana and Indika Sri Aravinda)