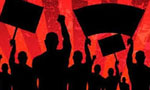 The islandwide trade union strikes, which was scheduled to be hold on Tuesday (Dec.15) would be carried out as planned, the State, Private and Semi Government Trade Unions Collective has said.
The convenor of the Collective Saman Ratnapriya said that discussion held with the Prime Minister Ranil Wickremesinghe yesterday evening on the issues in the 2016 budget proposals were not successful.
He said the Prime Minister had failed to fulfill their demands, including curtailing pensions from 2016 and increasing wages in the private sector.
"We will launch trade union action in the health sector on the morning of December 15. The trade unions of the Railways would launch their strike from tomorrow midnight," he said.
At least 50 trade unions representing health, transport, education, postal sectors had announced that they would launch a country wide strike on December 15 against the budget proposals of 2016.