---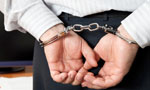 An Iranian working at the Uma Oya Project in Wellawaya was arrested on charges of having sprayed perfume on the Rakhkhithakanda Raja Maha Viharaya Chief Incumbent's face yesterday, the Police said.
A tense situation prevailed between the local workers and the villagers after they protested over the unloading a tractor of swage to the river which flows near the temple.
Police said the Iranian had arrived at the scene with three others and argued with the villagers and the Chief Incumbent and during the heated argument he had sprayed the perfume on the monk's face.
The monk was admitted to the Moneragala Hospital.
Police also said another Iranian who was present had videoed the incident.
Soon after, the villagers launched a protest at the Madagasthala Junction in Karandagolla over the attack on the monk.
(DS)