---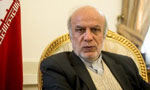 In a meeting between Iranian Deputy Foreign Minister for Asian and Pacific Affairs Ebrahim Rahimpour and Sri Lankan Foreign Minister Gamini Lakshman Peiris on Monday, the two officials underscored that expansion of bilateral ties has been always atop agenda both countries.
Rahimpour underlined progressive trend politico-economic relations between the two countries in the past three decades, and hoped to witness more development in mutual cooperation.
Peiris, for his part, underlined friendly and growing relations between the two states and welcomed increased engineering and technical services of Iran and expressed hope that developing projects would be implemented in Sri Lanka by Iranian companies.
Iran and Sri Lanka have had official diplomatic relations since 1961.
Currently, two Iranian companies are working on two important projects of dam construction and rural electricity in Sri Lanka.
Sri Lanka is an island country in the Northern Indian Ocean off the Southern coast of the Indian subcontinent. (Source: farsnews)