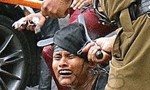 An Inspector attached to the Kirulapone Police Station who was found guilty for baton charging a female HNDA student at a protest held in Town Hall on October 29th was interdicted with immediate effect.
IP Upul Indrajith Ginige who was found being guilty of brutally assaulting an HNDA student that was widely exposed in media was interdicted on the recommendations made by the National Police Commission.
The NPC following an inquiry into the police attack on the student protest based on the statements by the eyewitness recommended IGP N K Illangakoon to interdict the Inspector with immediate effect.
The police chief passed the order to Senior DIG Western Province Pujith Jayasundara who issued charge sheets to interdict the Inspector, Police Spokesman ASP Ruwan Gunasekara said.
Female HNDA student Shahini Sanjeewani who was claimed to have been repeatedly baton charged by the Inspector was hospitalized with serious wounds to the head.
The police used water cannon and tear gas on protesting Higher National Diploma in Accountancy students near the University Grants Commission on October 29, before baton charging them.
(Kurulu Koojana Kariyakarawana)