---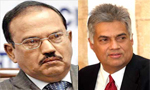 Opposition Leader Ranil Wickremesinghe on Monday met National Security Advisor (NSA) of India Ajit Doval and had discussed the current political situation in Sri Lanka, The Hindu said.
The meeting was held Monday evening, where the NSA had a one-on-one interaction with Mr. Wickremesinghe for about ten minutes, followed by a short meeting with senior members of the party.
"It was more like a courtesy call, where current political developments were discussed," sources said.
They said the NSA is reported to have enquired about the election strategy and campaign plans of the Common platform that the UNP is backing.
The issue of China's role in Sri Lanka — a major concern for India — also came up in discussions, said the source.
Dr. Doval is in the island to attend the 'Galle Dialogue' organised by Sri Lanka's Ministry of Defence.
The NSA also to met leaders of the Tamil National Alliance, and was scheduled to meet former president Chandrika Kumaratunga, along with common candidate Maithripala Sirisena.
Dr. Doval will meet President Mahinda Rajapaksa today.