---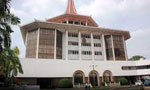 The appeal filed on behalf of the five Indians -- recently sentenced to death after being found guilty of drug trafficking charges -- was today withdrawn when the matter came up before the Court of Appeal.
In a motion filed before a Court of Appeal Bench comprising Justices Vijith K. Malalgoda (President) and A.H.M.D. Nawaz, the counsel appearing for the five fishermen said they were withdrawing the appeal. The appeal filed against the Colombo High Court judgment was subsequently dismissed by the Court after the appellants decided to withdraw it.
Five fishermen from Tamil Nadu and three from Sri Lanka were sentenced to death by the Colombo High Court on October 30after being found guilty of the charge of trafficking in 954 kilograms of heroin in the Northern High Seas between India and Sri Lanka.
An appeal was filed in Court of Appeal on November 11 by the eight fishermen including the five Indians Mariya Loyola Yamarshan, Rasappan Vilfren, Palanisamy Prasad, Sanprito Selavalangam and Palaninathan Augustra.
In their appeal, the fishermen denied the charge that they were involved in drug trafficking under the guise of being fishermen and said the prosecution had failed to prove the case beyond reasonable doubt.
Meanwhile, the prosecution maintained that this was the first ever trial where GPS evidence was successfully led by the Attorney General. (Lakmal Sooriyagoda)