---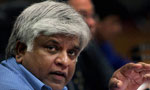 Refusing to blame the players for the ODI debacle in India, former Sri Lanka captain Arjuna Ranatunga said the country's administrators are responsible for the fiasco which has disturbed the team's World Cup preparations as well.
Sri Lanka are down 0-4 in the five-match series, which was hurriedly arranged after West Indies cricketers pulled out of India due to a pay dispute with their Board.
Ranatunga said he holds Sri Lanka Cricket, the Sports Ministry, his former teammates Sanath Jayasuriya, Marvan Atapattu and skipper Angelo Mathews responsible for the side's poor show so far.
His comments came after Sri Lanka lost the fourth ODI at the Eden Gardens following Rohit Sharma's record-breaking 264-run knock.
"In trying to please India they have taken Sri Lanka Cricket into a depressing situation. Jayasuriya (Chairman of selectors) Atapattu (the national coach) made us believe that the Indian tour would come in good stead for our World Cup preparations," Ranatunga said.
"This has been proved false now. We were aware that the Sri Lanka team was attending a fitness programme when the decision was made to go on the Indian tour. These are the results of poor planning," Ranatunga said.
Ironically it was Ranatunga's younger brother, Nishantha, the SLC Secretary, who was accused of arbitrarily agreeing for the tour after the pullout of the West Indians.
Nishantha Ranatunga defended his decision saying the SLC's executive committee had backed him in the decision. (The Indian Express)