---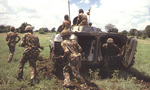 India on Thursday refused to take cognizance of a Sri Lankan minister's allegation that Indian Peace Keeping Force (IPKF) raped Tamil women during the civil war, stating that there was no official complaint from the Sri Lankan government.

"Sri Lankan government has not raised this with us. We can only respond to governments, clearly and lucidly, but not voices in wilderness," said Indian External Affairs Ministry spokesperson Syed Akbaruddin.
He was replying to a question seeking India's response on the remarks made by former LTTE breakaway faction leader and now minister in Sri Lankan Cabinet Vinayagamurthi Muralitharan, known as Karuna.
Muralitharan alleged there was 'evidence' that IPKF men had raped and killed Tamils during the operation in Sri Lanka.
Mr. Akbaruddin described Karuna's statement as 'voices from the wilderness', a similar phrase that he had earlier used for the Shahi Imam's invitation to Pakistan Prime Minister to attend his son's anointment ceremony as successor.
"These are voices in the wilderness… If I start reacting to every view, there will be no end," he said.
He pointed out that the Sri Lankan government had not raised this, even though the Indian high commissioner remains in touch with them on a day-to-day basis.
"If they have not raised this with us, we will not respond to the voice from the wilderness," said Akbaruddin, adding that they occupy only the 'mindspace' of the media. (New Indian Express)