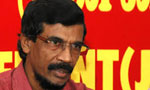 The Janatha Vimukthi Peramuna (JVP) today urged the government to appoint the members to the Constitutional Council and re-instate the independent commissions before the next general election.
JVP General Secretary Tilvin Silva said the government had not fulfilled its promises other than to implement the 19th Amendment to the Constitution and urged it to fulfil the promises made to the people at the presidential election.
"Government has not worked out a methodology to ensure the Rs.2,500 pay hike for private sector employees and we doubt whether anyone had paid the mansion tax imposed through the budget," he said.
Mr. Silva said that investigations into allegations of bribery and corruption had been neglected and wondered whether it had happened with the knowledge of the government.
He said there was mayhem in the country because the government is facing a state of paralysis in parliament and was preventing the people from electing a government of their choice.
Mr. Silva said a group of MPs with the backing of former president Mahinda Rajapaksa were leading the country to anarchy. He said they had done their best to disrupt the enactment of 19A and were now attempting to thwart the appointment of the members to the Constitutional Council.
(Ajith Siriwardana)
WATCH