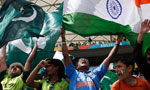 The eagerly anticipated cricket series between India and Pakistan is on the verge of being called off.
According to reports, Pakistan Cricket Board (PCB) chairman Shahryar Khan has said that the Board of Control for Cricket in India (BCCI) has declined to play the series against Pakistan.
He also added that Pakistan will reconsider their decision to play in the ICC World T20 2016, set to be played by in India, after discussing with the Pakistan government.
PCB is set to lose $50 million, as per the board chief.
As per a tweet by Saj Sadiq, Pakistan cricket journalist, the PCB chairman said, "We hoped the situation would improve but we've now run out of time. We will now examine our legal position."
Khan said that hopes of resumption of bilateral cricketing ties between India and Pakistan with a short series later this month are "dying" with too little time left to organise the big ticket event.
It was expected that Sushma Swaraj, the External Affairs Minister's meeting with Sartaj Aziz, Pakistan's Foreign Minister in Islamabad on Wednesday would pave way to the resumption of cricket ties between the neighboring countries.
However, even as there were talks about improving relations, there was no discussion on cricket.
"We were hopeful that Sushma Swaraj's visit will make things better but it did not happen," Khan was quoted as saying by Waqt News.
"We wanted to play, but India did not respond positively. It is already too late to organise the series and we don't have time for the series anyway," he said referring to the proposed series in Sri Lanka where the teams were expected to play three ODIs and T20 internationals from December 17 to January 3.
The PCB said that they are mulling legal options if the series is indeed cancelled. "We will decide our future plan after analysing our options under legal aspects and consultation," he said.
Last year, the BCCI had signed a Memorandum of Understanding (MoU) with Pakistan of playing a series in the United Arab Emirates (UAE) or a mutually-agreed country in December 2015.
The MoU was signed during the reign of N Srinivasan, the former BCCI president, in order to earn PCB's vote in his bid for the International Cricket Council's (ICC) chairmanship.
(24/7)