---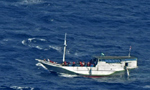 Seventeen Sri Lankans who attempted to migrate to Australia illegally were taken in to custody by the Navy in the seas off west Batticaloa today.
Sources said the migrants had left the country from Valachchenai on a multi day trawler.
The arrested migrants are being brought to the Trincomalee harbor and will be handed over to the Maritime Division of the Criminal Investigation Department for further action.