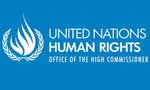 Despite many expecting a 'naming and shaming' in the content of the UN report on Sri Lanka, UN sources in Geneva state that the names of individuals accused of perpetrating the alleged abuses during the final phases of the conflict in Sri Lanka were never intended to be published in the report.
Sources told Daily Mirror that the names of the accused were never intended to be included as part of the report as the OISL (OHCHR investigation on Sri Lanka) was a human rights investigation and not a criminal inquiry.
It was pointed out that in the case of Sri Lanka; comparatively few lists were submitted to the investigation panel and that too through zonal investigation commissions as opposed to lists of names that were submitted in investigations such as the Commission of Inquiry on Syria.
Even in the case of the CoI on Syria and its findings, the list of individuals accused of perpetrating abuses have been handed over to the High Commissioner and sources claim it would continue to remain in his possession alone until a credible, competent judicial investigation is carried out – in which case the names would be passed on to the relevant authorities.
Therefore, sources said it would be the same course of action that would be followed with concern to those whose names have been involved with perpetrating the alleged abuses during the final phases of the war in Sri Lanka.
Meanwhile, OHCHR Media Officer Ravina Shamdasani who is currently in Sri Lanka speaking to Daily Mirror on the way forward, following the public release of the OISL report noted that it is time for action in Sri Lanka.
"We hope that the government and people of Sri Lanka will take the time to study the report and perceive its contents in a positive light; as an opportunity and engage with us in ensuring the successful implementation of the recommendations," she said.
Speaking of the time frame during which these recommendations would be implemented, she noted that while it's important to implement them promptly, it is also essential to ensure that the mechanisms are created following broad consultations with all stakeholders involved, particularly the victims, in order to ensure they are designed to succeed.
(Lakna Paranamanna)