---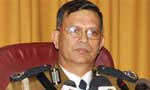 Inspector General of Police N.K. Ilangakoon and Deputy Inspector General of CID Ravi Seneviratne would represent Sri Lanka at the Interpol's General Assembly tomorrow in Monaco.

The 83rd INTERPOL General Assembly meeting will be held from November 3 to 7.

Ministers of interior, Justice and Security, as well as top law and police officers from about 190 countries will be present at the event.

The meeting, titled Turn Back Crime: 100 years of international police cooperation, aims to celebrate a century since the idea of the organisation was first presented in 1914.

Police Spokesman SSP Ajith Rohana said the participants would discuss international criminal threats, foreign fighters, cyber crime, and borders and environmental security at the event.

He said IGP Ilangakoon would cast his vote to elect the InterPol's Executive Committee and the new Secretary General on the final day of the meeting.

Meanwhile, senior DIG of Police Gamini Navaratne has been appointed as the Acting IGP. (DS)