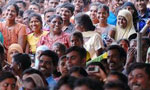 As many as 2,175 internally displaced Tamil families in Jaffna and Trincomalee districts are set to receive a financial assistance of Rs. 38,000 per family for resettlement with the Cabinet of the Sri Lankan government sanctioning Rs. 16 crore Lankan.
Two hundred and four families in Sampur, Trincomalee district of the Eastern Province, and 1,971 families in Jaffna of the Northern Province will get the assistance initially.
Of the amount of assistance, Rs. 25,000 is set apart for resettlement allowance and the remaining Rs. 13,000 for purposes such as clearing land and purchase of tools. The payment will be made on verification of claims by district-level officials, says an official in the Ministry of Resettlement, Reconstruction and Hindu Religious Affairs.
Resettlement Minister D.M. Swaminathan, when asked for a reaction said he would not like to comment now.
(The Hindu)