---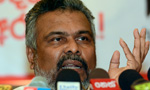 Panadura Urban Council Chairman who resigned from the UPFA said today it was they who brought President Mahinda Rajapaksa to power and it will be they who will campaign to send him home.

"I should have taken this decision earlier. But I did everything possible to turn this Government away from corruption. I have actively engaged in the activities of the Pivithuru Hetak Udesa Jathika Sanvidanaya and the discussions on fielding a common candidate, "he said.

Mr. Gunathilaka said there had been family politics in the past as well and it could be described as a family tree but what we were experience today was not a family tree but a family forest.

"Today the Rajapaksas are ruling the roost in Parliament and those close to them have been appointed to almost all government institutions and to our embassies abroad," he said.

Mr. Gunathilaka said there was neither democracy nor media freedom in Sri Lanka after 2010 with some journalists even having to leave the country to save themselves.

"We can't say there is democracy in the country just because there are no dead bodies on the road. The lack of media freedom and democracy had led some journalists to go abroad for their safety. This is not a good situation. For some time now I have not seen any articles or any news criticising members of the Rajapaksa family," Mr. Gunathilaka said.(Yohan Perera & Ajith Siriwardana)
WATCH