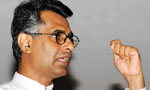 JHU General Secretary and Power and Energy Minister Patali Champika Ranawaka today objected to the upcoming general election being conducted under the current Proportional Representation (PR) System.
Last week President Maithripala Sirisena had informed the smaller parties that the elections would be held under the present system with the proposed electoral reforms if enacted coming into force for future elections only.
The minister told a news conference held at his office that President Sirisena had pledged to introduce electoral reforms within the 100-day programme of the government. He said the objective of the 20th Amendment was to scrap the highly criticised and blatantly abused preferential voting system and ensure that every citizen of this country was represented by a Member of Parliament.
"The demand to postpone the electoral reforms and conduct the forthcoming parliamentary polls under the existing PR system is being made for political advantage. The minority and smaller parties that are mainly behind this demand to postpone electoral reforms till after the elections must think nationally and not individually," he said.
The minister said the President had given three main pledges at his election campaign -- the first was to abolish the executive presidency or at least prune its absolute powers; the second was to reactivate the independent commissions and the third was to introduce electoral reforms.
He said the smaller and minority parties had opposed electoral reforms since 2002 despite the popular demand for reforms.
"The call to postpone electoral reforms till after the general elections can be termed as treacherous and anti-national. Therefore, it is the bounden duty and responsibility of all law makers to support the 20th Amendment to the Constitution," the minister said. "Even the JHU may be at a disadvantage when new electoral reforms are introduced. But as politicians who love the country and the people and putting aside personal interests we must support the 20th Amendment to the Constitution and rid the country from the wretched clutches of corrupt politicians and the corrupt electoral system.
However, he expressed hope that the 20th Amendment would be passed in Parliament with the support of all political parties and added that it would act as a barometer to test the honesty and integrity of all politicians and their political parties.
(Sandun A. Jayasekera)