---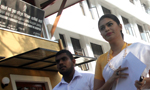 Member of the Western Provincial Council Hirunika Premachnadra today lodged complaint at the Commission to Investigate Bribery and Corruption on alleged frauds with regard to Hambantota Port making the Sri Lanka Ports Authority (SLPA) Chairman as the respondent.
Ms. Premachnadra told journalists that there had had been serious violation of procedures when awarding tenders under nine projects at the Hambantota Port.
She alleged that the tenders had been awarded to close associates of the SLPA hierarchy for the Phase 1 of the port project, Phase 2 and the break-water and the oil bunkering plant.
Ms. Premachnadra said she had provided information with regard to the nine projects.
"We will reveal more information on frauds in the future and I am concerned about the situation as my father, the late Presidential advisor Baratha Lakshman Premachdra, was a member of the trade union attached to the SLPA ," she said.
(YP & DS)
WATCH
Video by Darshana Sanjeewa