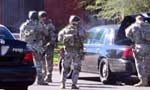 Police said there was an "active shooter" incident in the city of San Bernardino and confirmed there were between one and three possible suspects who were 'heavily armed' and believed to be wearing body armour.
Two suspects are believed to have been shot with police only confirming they "are being dealt with" after the shooting – but one may still be at large.
Officers are reportedly going from door-to-door in the San Bernardino are for a possible suspect while several hundred people have been evacuated from a building there.
The US Bureau of Alcohol, Tobacco, Firearms and Explosives said its agents were heading to the site amid reports that a bomb squad was on the scene.
Loma Linda Hospital in San Bernardino also confirmed it went on "yellow alert" after receiving a "credible" bomb threat while treating five people involved in the earlier shooting.
Police Chief Jarrod Burguan said at least 14 people have been killed and about 17 wounded.
He said the motives behind the attacks were unknown.
(express.co.uk)