---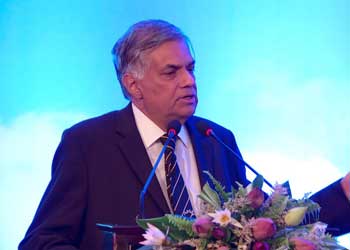 The reconciliation process would have to move on a slow pace as it would have to look at many aspects, Prime Minister Ranil Wickremesinghe said at the opening ceremony of the new Municipal Council Building in Eravur today.
"Our journey towards national reconciliation is slow. It is slow as we have to think of all relevant aspects," he said.
The Premier recalled that a Unity Government was formed together with President Maithripala Sirisena to bring about national reconciliation, which did not come with the war victory.
Mr. Wickremesinghe said he and the Chief Ministers of the North and the East had already discussed unemployment issues in the two Provinces.
He said that around 20,000 graduates in the North and the East would be given employment in the coming days.
"In addition there will be tremendous opportunities in the East. Both India and Japan are interested in developing the Trincomalee Port and developing an Industrial Development Zone in the District.
"The Government will also invest some funds in the Trincomalee Port Development Project," he said.
He said a company would take over the Mattala Airport before the end of the year.
He said the development projects, which will take place in the South, will flow towards the Eastern City of Ampara as well.
"Development will be brought to Batticaloa as well. The domestic airport in Batticaloa has already been developed. A number of other development projects will be implemented in the area as well as tourism projects. We are looking for lands in the Batticaloa District currently," he added. (Yohan Perera in Eravur)