---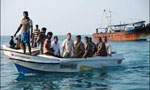 The government would investigate the attack on the fishermen who were staging a protest in front of the Fisheries Ministry in Maligawatte yesterday, an official said.
"The government is very concerned about the attack on the innocent fishermen and decided to launch impartial inquiry into the attack," a government spokesman said, while expressing concern over the attack.
Stones and some other objects had been thrown at the protesting fishermen who were expressing their objection to issues they faced and calling upon the authorities to provide effective solutions to their grievances.