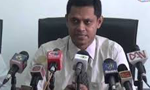 The Government Medical Officers' Association (GMOA) today condemned the statement made by Prime Minister Ranil Wickremesinghe in parliament about the GMOA and its president Dr. Anurudda Padeniya and said a decision would be taken at Sunday's Central Committee meeting with regard to their future course of action.
GMOA Secretary Dr. Nalinda Herath responding to a statement by the Prime Minister that the GMOA did not make any contribution to the January 8 revolution, said that they had not contributed to set up or topple any government in the past and would not do so in the future as well.
"We do not mind any revolutions or counter-revolutions. We neither represent Rajapaksas nor the Wickremesinghes but our members. We cannot stop our trade union action going against our central committee decision. We regret the Prime Minister making such a statement. Earlier such statements were made by ministers like Mervyn Silva and S.B. Dissanayake,' he said.
Dr. Herath said President Maithripala Sirisena and Health Minister Rajitha Senaratne had given them two discussions but the Prime Minister had not given any discussion so far despite repeated pleas.
GMOA Spokesman Dr. Navin de Soysa said they had not made any new demands from the new government but had requested not to remove the previous privileges and concessions enjoyed by them so far.
"We have not demanded any salary hike or any other privileges. We request the government to keep intact the privileges and concessions given to doctors earlier so that the professionals could get attracted to the government service and provide a better service to the people,' he said.
(Ajith Siriwardana)