---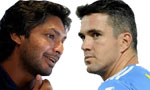 Former Sri Lanka cricket captain Kumar Sanagakkara was among those who criticsed Andrew Strauss over his handling of the latest Kevin Pietersen saga, questioning Strauss' logic in excluding the English batsman.
Sangakkara, who plays alongside Pietersen at English county Surrey, tweeted: "I don't trust @KP24 enough for him to play for England but I trust him enough to advise me on ODI cricket" #strausslogic.
In his new role as the ECB's director of cricket, Strauss announced on Tuesday that Pietersen 's England exile would not end despite posting a career-best 355 not out for Surrey on the same day.
Former South African skipper Graeme Smith was among others who criticised the move tweeting: 'I see the head boy is making English cricket the laughing stock again! #StraussLogic'