---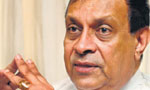 The patron of the United Bhikkhu Front, the Venerable Girambe Ananda Anunayaka Thera in a letter addressed to leader of Opposition and United National Party (UNP) Leader Ranil Wickremesinghe had informed him that the Bhikkhu front would keep away from the party activities if he failed to name UNP Leadership Council Chairman Karu Jayasuriya as the common Opposition candidate.
The Thera in a letter had told Mr. Wickremesinghe that the government was way ahead in its campaign for the presidential election while the main opposition UNP was virtually asleep. He had said this was a sad state of affairs.
He had further said that the candidate who was to be announced by the Venerable Maduluwawe Sobhitha Thera should be a neutral candidate. He requested Mr. Wickremesinghe to name Mr. Jayasuriya as the candidate.
He had said the Bhikkhu Front would keep away from the UNP if the party didn't name Mr Jayasuriya as the candidate.
Meanwhile, the Venerable Ananda Thera chaired a meeting with the Venerable Atureliye Ratana Thera and several political parties at the Naga Vihara in Kotte last evening and decided to field either the Venerable Sobhitha Thera or Mr. Jayasuriya as the common candidate. (Yohan Perera)