---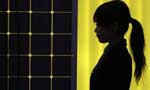 Sri Lanka continues to make progress in closing the gender gap on health and survival, and has high involvement of women in tertiary education, ranking 13th in the world, stated the World Economic Forum's Global Gender Gap 2014 Report, published today.
"Sri Lanka's gender gap on Health and Survival remains closed. Its high performance on the Wage equality for similar work indicator is offset by a low score on the Estimated earned income indicator. The country ranks 13th on the Enrolment in tertiary education indicator. Very low scores on the Women in parliament and Women in ministerial positions indicators are offset by a high score on the Years with a female head of state indicator, with 21 years with a female head of state out of the last 50," the report stated.

These six countries are spread across regions: in Asia, it is Sri Lanka; in Africa, Mali; in Europe, Croatia and Macedonia; and in the Middle East, Jordan and Tunisia. In the Americas, no country has widening gender gaps.

The report looked at 142 countries worldwide and measured the gaps between men and women in health, education, the economy and politics.
Iceland tops the list for the sixth year running. The UK has fallen eight places to 26th while Yemen placed last.