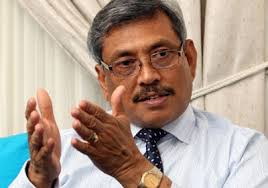 Former Defense Secretary Gotabhaya Rajapaksa rejected allegations of an attempt being made by the Rajapaksa regime to subvert democracy through an 'election night coup' and said they would not have called in the Attorney General if such a plan was being actually hatched at Temple Trees.
"Yes, the Attorney General was called to Temple Trees but that was to discuss the matter of maintaining law and order such as whether it was necessary to impose a curfew, etc. because the Opposition had publicly stated that it will surround Temple Trees. That was a situation that needed to be addressed," he said in an interview with Daily Mirror.
Mr. Rajapaksa said therefore there was a need to put in place certain measures and provide instructions on the maintenance of law and order during the post-election period.
He said the AG, the IGP and the service commanders were present at the Temple Trees.
"The AG is entitled to advise the government and if there was an attempt to stage a coup, do you think the AG would have been consulted?" Mr. Rajapaksa asked adding that these allegations about a coup was 'false and baseless' and was being publicized to discredit the former President and other officials.
"It's nothing more than a political witch-hunt because it's very clear that no such thing took place; even before all the results were announced the President and all his staff left Temple Trees," he added.
(Lakna Paranamanna)