---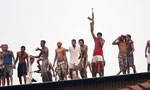 A fresh probe, on the Welikada Prison riot in 2012, is underway and the report is expected to be out in a few weeks, Justice and Labour Relations Minister Wijedasa Rajapakshe said today.
The minister said this at a ceremony held at the Welikada Prison during the handing over of 50 buses to various institutions of the Prisons Department.
The National Collective against the Killing of Prisoners in Welikada and relatives of those inmates who were killed during the riots held a protest rally outside the prisons and urged the government to carry out a proper investigation this tragedy.
"The protest has come a little too late b ecause we have already appointed a fresh committee which is investigating this tragedy and will submit the report in a few weeks," the minister said.
(YP & DS)