---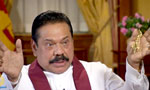 A vociferous campaign is being carried out to abolish the executive presidency or to reduce its powers but no one said a word when the country was betrayed by using executive powers and when some 650 uniformed policemen were ordered to surrender to the LTTE at Kattanakudi, President Mahinda Rajapaksa said.

He expressed these views at the ground breaking ceremony held at Galagedara to launch the Colombo–Kandy Expressway (CKE) yesterday. The President said the opposition was agitating for the abolition of the executive presidency because it had nothing else to say.

Explaining how former presidents misused the powers of the executive presidency, President Rajapaksa said the 1972 Constitution that made Sri Lanka a republic was hastily discarded and the executive presidency introduced in 1977.

"Prime Minister Sirimavo Bandaranaike took two years to draft and approve the 1972 Constitution. But it was scrapped and a new Constitution introduced in a short time. The 13th Amendment to the Constitution was introduced by getting the consent of parliamentarians under duress. They were brought to Colombo in helicopters and kept at five-star hotels to get their signature for the 13th Amendment.
That was how the Executive Presidential powers were used for personal agendas. Now they ask me to abolish the executive presidency which is hilarious and malicious," the President said. "I appointed a Parliamentary Select Committee to look into political grievances because Parliament is the best forum to air the views of the people. The representatives of the people must know the ground realities of political and ethnic problems. We invited members to bring their grievances to the PSC and present their proposals.
There were suggestions to abolish the executive presidency by certain groups and another point of view was that there will be major problems if executive presidency was removed. You must not forget that the remnants of separatist terrorism and the LTTE ideology are still active though the LTTE was physically obliterated in Sri Lanka. These anti-national and anti-Sri Lankan elements are looking for an opportunity to pounce on Sri Lanka and to make this country their playground."

The President said he had expressed his views on the 13th Amendment to foreign heads of state and to the UN. If the PSC decides that the executive presidency was not necessary, the government is ready to accept it. But we must carefully analyze what would happen to the 13th Amendment if and when the 13th Amendment was abolished.

"It has been proved more than once that weak and unsteady government would pave the way for revivalof terrorism and the disruption of the development drive launched by this government following the defeat of terrorism," the President said.