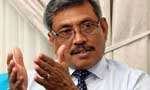 Former Defence Secretary Gotabaya Rajapaksa said a thorough inquiry was conducted by the Criminal Investigations Department (CID) into the floating armoury belonging to the Avant Garde Company and it had come to the conclusion that there was no illegality or even procedural infirmity in his actions.
"People who did not know about the work of the company and the international context in which Sri Lanka created a floating armory and Sea Marshals, made allegations. I was against a witch hunt but wanted the charges to be probed properly, which the CID did," Mr. Rajapaksa told the Indian Express.
He said the anti-piracy company was set up at the request of the United Nations and Avant Garde did a good job eliciting praise and earning a lot of foreign exchange for Sri Lanka.
The government on Monday told the Colombo Additional Magistrate that it does not want to proceed with the "floating armoury" case in which Gotabaya Rajapaksa, former Defense Secretary and brother of ex-President Mahinda Rajapaksa, is involved.
Magistrate Nishantha Peiris terminated the case after the Criminal Investigation Department (CID) informed him that, on the advice of the Attorney General, it did not wish to pursue it.
After the Presidential election on January 8 in which Mahinda Rajapaksa was defeated, police seized the floating armory and more than 3,000 automatic weapons in 20 containers at Galle port.
The armoury was run by a private security firm, Avant Garde Maritime Services (Pvt) Ltd. Avant Garde was in a joint venture with the Defense Ministry-owned Rakna Lanka Ltd., which was in the business of providing Sea Marshals to ships operating in the piracy-infested seas off Somalia and the Gulf.
To ruling party leaders, almost everything about the Rakna Lanka-Avant Garde deal was tainted or suspicious. They charged that the Sea Marshals could well have been used at election time. The Maithripala Sirisena government promptly asked a Presidential Commission on high corruption to go into the allegations.