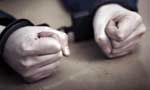 The Dubai Police have busted a gang of five Sri Lankans who stand accused of stealing millions of dirhams worth of valuables from villas in Dubai before attempting to flee the country.
On Monday, the Dubai Police Operations Room received information about a theft in a villa in Dubai's Al Barsha area. The police rushed to the scene and were told by the homeowner, an Emirati, that when he came home at 9.30pm he found the villa's doors broken. Watches worth Dh250,000 and Dh100,000 in cash were stolen.
Police investigation revealed that the modus operandi was the same as in eight other villas in the area. The police arrested four of the suspects as they tried to leave the country through Dubai International Airport. Huge amount of dirhams and Sri Lankan rupees, as well as gold and watches were retrieved. All four men confessed during interrogation, as did the fifth suspect who was arrested in Dubai later.
The men confessed that they often stole from vacant villas. They would ring the doorbell and if they did not receive any response, one suspect would climb the wall and open the door to three others, while the fifth would stand watch outside.
The fifth suspect was also found to be violating the UAE residence laws. All five men have been referred to the Dubai Public Prosecution.
(Source: Khaleej Times)