---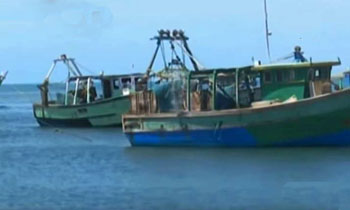 A 50-member fishermen team from Tamil Nadu has left for Sri Lanka to salvage seven of the 42 fishing boats released by the island nation.
They sailed from Mandapam Coast Guard Station on Wednesday morning and were likely to reach Karainagar by evening, fisheries officials said. The entire salvage mission is coordinated with the support of Indian high commission in Jaffna and the Sri Lankan navy.
The team sailing in seven fishing trawlers will tow seven boats which are anchored at the Karainagar naval base in Sri Lanka.
Since February 2015, Sri Lankan naval agencies have confiscated more than 180 fishing crafts, which sailed from Tamil Nadu and Karaikal in the Union territory of Puducherry, on charges of poaching in the territorial waters of the island nation.
In August, Sri Lanka released 42 boats belonging Tamil Nadu and Karaikal fishermen. On August 17, a nine-member team of fishermen leaders and a boat mechanic along with fisheries officials travelled to Sri Lanka by flight and visited the jetties where these boats were moored. The team took stock of the condition of the released boats and assessed the methods to bring them back.
Out of the 42 boats, 36 could be towed back to the country, said B Jesuraja, a fishermen leader at Rameswaram who was part of nine-member team that visited Sri Lanka in August.
In first phase, seven boats - six from Rameswaram and one from Mandapam - will be salvaged. "Our team will tie the boats with trawlers and tow them back here. Once they return, we will take out repair works. Each boat may require at least Rs 3 to Rs 4 lakh to be seaworthy again," Jesuraja stated. (Times of India)