---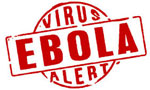 A 26-year-old Indian working in Liberia, who was treated and cured of Ebola in September, is in isolation at Delhi's Airport Health Organisation Quarantine Centre after his semen sample showed traces of Ebola virus.

Though the man has tested negative for Ebola, traces of the virus was found in his semen, which makes it possible for him to sexually transmit the deadly haemorrhagic disease that has killed over 5,000 people globally since an outbreak started in March.

According to experts, the virus can remain in secretions such as semen and urine for up to 90 days post successful treatment, and the Indian authorities plan to keep him under observation for 90 days.

The man travelled from Liberia to India and reached Delhi on November 10. He underwent the mandatory screening at Delhi Airport. After being interviewed, he gave history of febrile illness for which he was admitted to a health facility in the western African country on September 11, and was discharged on September 30.

He carried a certificate of medical clearance from the ministry of health and social welfare, government of Liberia, mentioning that 'he has successfully undergone care and treatment related to Ebola Virus Disease and after post treatment assessment he has been declared free of any clinical signs and symptoms and confirmed negative by laboratory analysis'.

He was isolated at the Airport Health Organization's quarantine centre at Delhi airport. His blood samples tested at National Centre for Disease Control, Delhi, from November 10-13 were found negative for Ebola virus by Reverse Transcriptase Polymerase Chain Reaction (RT–PCR) tests that are considered confirmatory.

Though under World Health Organization (WHO) and CDC (Centers for Disease Control and Prevention) specifications, he was "cured", his semen and urine samples were sent for analysis for re-confirmation.

"Currently, this person is not having any symptoms of the disease. However, he would be kept under isolation in the special health facility of Delhi Airport Health Organization, till such time his body fluids test negative and he is found medically fit to be discharged," said a statement from the health ministry.

"It is reiterated that the person concerned is a treated and cured case of Ebola. No cases of relapse of Ebola have been documented. All necessary precautions are being taken at the isolation facility. This would rule out even the remote possibility of spread of this disease by the sexual route. The situation is under control and there is no need for any alarm. However, all precautions are being taken in this regard," read the statement.(HT)