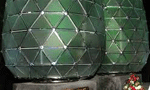 Police Financial Crimes Investigation Division (FCID) officials today visited the D. A. Rajapaksa Museum in Weeraketiya to investigate the misuse of state funds amounting to Rs.90 million for setting up the museum.
The FCID officials were accompanied by Government Assessors from the Valuation Department to carry out an assessment of the institution.
Police Spokesman ASP Ruwan Gunasekara said the FCID had on an earlier occasion reported to the Colombo Chief Magistrate regarding an investigation being carried out into the misuse of state funds for constructing a commemorative museum by the previous regime.
FCID sources said there was evidence to show that more than Rs.90 million in state funds had been misused to put up the museum by the Rajapaksa regime to commemorate the 47th death anniversary of D.A. Rajapaksa. The museum contains a collection of items used by former president Mahinda Rajapaksa's parents.
On September 14, former defence secretary Gotabaya Rajapaksa was questioned by the FCID over the use of funds belonging to the Urban Development Authority to construct the D.A. Rajapaksa Memorial Museum.
Former president Mahinda Rajapaksa declared open the museum on November 6last year in the presence of parliamentarians Chamal Rajapaksa, Basil Rajapaksa, Namal Rajapaksa, defense secretary Gotabaya Rajapaksa and former Uva Chief Minister Shashindra Rajapaksa.
(Kurulu Koojana Kariyakarawana and Darshana Sanjeewa)