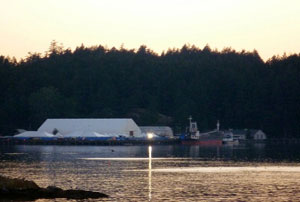 A Sri Lankan man who arrived in B.C. aboard the cargo ship MV Sun Sea in the summer of 2010 and claimed refugee protection for fear of political prosecution has been granted a judicial review of his case in his fight to remain in Canada.
Federal Court of Canada Justice James O'Reilly granted the review to Packiyakumar Pathmanathan after a panel of the Immigration and Refugee Board previously dismissed the man's claim, saying his life would not be at risk upon return to Sri Lanka.
The board accepted that Pathmanathan might be questioned for potential links to the Liberation Tigers of Tamil Eelam (LTTE) but said he had not shown any association to the now defunct guerilla organization. Pathmnathan's claim was based on the concern he would be perceived by Sri Lankan authorities that he was associated with the group and become a victim of cruel and unusual punishment in Sri Lanka.
In his May 15 ruling delivered in Vancouver, O'Reilly wrote that the board did not cite any documentary evidence dealing with the treatment of passengers on the MV Sun Sea or the MV Ocean Lady, another vessel that brought refugee claimants to Canada from Sri Lanka.
"That evidence showed that both Sri Lankan and Canadian authorities have accused passengers of having an association with the LTTE," he wrote. "It is clear, even on the evidence cited by the board that persons suspected of having ties to the LTTE, including failed refugee claimants, face a risk of torture or mistreatment on return."
The evidence suggests, contrary to the board's finding, that Pathmanathan would likely be questioned upon his return about a possible link to the LTTE, said O'Reilly, adding that "had the board considered the relevant evidence and still found a basis for dismissing Mr. Pathmanathan's claim, its conclusion would merit considerable deference."
Added O'Reilly: "However, in the absence of that analysis, I find that the board's decision does not fall within the range of defensible outcomes, based on the evidence and the law. Since the separate issue of Mr. Pathmanathan's credibility regarding his past in Sri Lanka will have to be re-determined at a new hearing, it is unnecessary for me to comment on the board's findings here."
In hearing Pathmanathan's refugee claim, the board concluded that it didn't believe the man's account of events that led to him being intercepted by authorities off the coast of B.C. It pointed to a number of areas of his evidence "that were implausible, as well as inconsistencies in his testimony."
O'Reilly's decision means the judicial review will also include another panel of the board to reconsider Pathmanathan's claim. Pathmanathan was one of almost 500 Sri Lankan Tamils who were aboard the MV Sun Sea, which eventually was docked in Esquimalt.
(vancourier)