---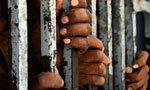 The hunger strike launched by the Tamil prisoners including ex-LTTE carders last week demanding their release was called off this morning, the Prisons Department said.
The prisoners were detained under the Prevention of Terrorism Act (PTA) in prisons across the country.
"The government assured to rehabilitate some of the detainees and then to release them. Following this assurance, the prisoners called off their hunger strike today," an official of the Department said.
The prisoners launched a similar hunger strike last month and it was called off on the after government promised to release them.
However, they had resumed the strike on November 10 as the government had failed to release them as promised.
WATCH