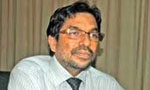 Sri Lanka Customs hopes to develop a new proactive, door-to-door delivery service attached to Customs Clearance Department as a means of reducing the high cost incurred by importers and easing their logistical problems, Customs Director General Jagath P. Wijeweera said.
This new door-to-door delivery service mainly focuses on delivering the goods that arrive at the port through a registered delivery service direct to the importer with minimum effort.
"We have invited several private companies to install goods scanners and to implement a system to monitor the action of the scanners at the Customs office or at the service provider or even from another location," Mr. Wijeweera said.
He said the next step would be to set up a network and link up with the Immigration and Emigration Department to maintain a record of arrivals and the goods they bring into the country.
"With this facility in place it is going to be make customs clearance uncomplicated and easy. As a result the need to individually check and pass the goods entering the country will not exist in the future, thus saving time and money," Mr. Wijeweera said and added that goods brought into the country without a passport would be cleared without taxes and goods which do not exceed Rs.15,000 would be excluded from taxes and released by Customs.
The Customs Department hopes that several companies will agree to install these scanners in the next few months.
(Chaturanga Pradeep)