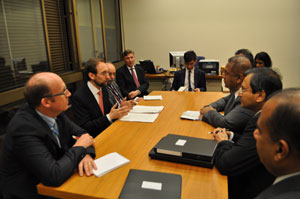 UN Human Rights chief Zeid Ra'ad Al Hussein has called upon the government of Sri Lanka to ensure that failures of the past are not repeated.
The UN High Commissioner for Human Rights made these remarks yesterday, in his annual report that was delivered at the ongoing 28th UNHRC session in Geneva where he had stressed on the importance of seizing the chance offered by the 'one-time only' deferral of the OISL (OHCHR Investigation on Sri Lanka) report, in establishing a foundation that would ensure lasting peace and reconciliation in Sri Lanka.
He had also urged the Sri Lankan authorities to consult deeply with the people, particularly the victims in formulating a mechanism that would ensure accountability and lay the foundations for peace and reconciliation.
"This is a singular opportunity for the government," he had said while noting that he made the decision to grant the request for the deferral of the report based on the assessment of the changing context in Sri Lanka as well as the broad signals of cooperation from the GoSL and the possibility of the availability of new information.
Furthermore, the High Commissioner had also commended the government's agreement to invite him as well as the several other UN teams including the Special Rapporteur on Truth, Justice, Reparations and Guarantees of non-recurrence and the working group on enforced and involuntary disappearances,to visit Sri Lanka before the sessions in September.
"During this period, the OHCHR staff also plans to engage on the ground with all stakeholders to advance transitional justice issues," he had noted.
(Lakna Paranamanna)