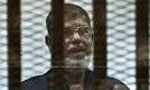 An Egyptian court upheld Tuesday a death sentence against ousted Islamist president Mohamed Morsi for plotting jailbreaks and attacks on police during the country's 2011 uprising.
It also sentenced Morsi, Egypt's first democratically elected president, to life in prison on charges of spying for the Palestinian Hamas movement, Lebanon's Shiite Hezbollah and Iran.
In a separate trial in April, Morsi was sentenced to 20 years on charges of inciting violence against protesters in 2012, when he was president.
Then army chief and now President Abdel Fattah al-Sisi ousted Morsi in 2013 after mass protests calling for an end to his divisive one-year rule.
Sisi has since overseen a sweeping crackdown on Morsi's supporters, with hundreds of Islamists killed and more than 40,000 in custody, according to Human Rights Watch.
Hundreds have also been sentenced to death after speedy mass trials described by the United Nations as "unprecedented in recent history".
The authorities designated Morsi's Muslim Brotherhood a "terrorist group" in 2013, accusing it of being behind violence that erupted after his ouster -- an accusation the movement denies.
Tuesday's ruling upheld an initial verdict by the same court on May 16 sentencing Morsi and about 100 other defendants to death.
After the latest verdict was read, Morsi, dressed in a blue prison uniform, smiled, clenched his fists together and raised them in a sign of defiance.
The Muslim Brotherhood called for protests against the verdicts to be staged on Friday over what it described as "farce trials".
The White House said it was "deeply troubled" by the ruling, described by the European Union as a "worrying development".
UN Secretary General Ban Ki-Moon was said to be "very preoccupied", while Turkish President Recep Tayyip Erdogan called it a "massacre of fundamental rights and liberties".
Meanwhile, Amnesty International said such the ruling "demonstrated the appalling state of the country's justice system".
For Human Rights Watch, the case appeared "to have been politically motivated", noting that the conviction was "based almost entirely on security officials' testimony".
Ties between the United States and Egypt plummeted after Morsi's ouster, with Washington freezing its annual $1.3 billion in military aid to the country.
But relations have since improved and most of the aid was unblocked late last year.
Tuesday's ruling comes after the court consulted Egypt's grand mufti, the official interpreter of Islamic law.
Judge Shaaban el-Shamy also confirmed the death sentences against about 100 other defendants, including the Muslim Brotherhood's spiritual guide, Mohamed Badie, and Qatar-based cleric Yusuf Qaradawi, who was tried in absentia.
Twenty-one other defendants have been sentenced to life in prison.
In the espionage case, Shamy confirmed earlier death sentences against 16 defendants, though only three are in custody, including Muslim Brotherhood financier Khairat al-Shater.
Badie and 15 others were also sentenced to life in prison in the spy case, while three others were given seven years.
They were convicted of spying on behalf of the international Muslim Brotherhood organisation and Hamas from 2005 to August 2013 "with the aim of perpetrating terror attacks in the country in order to spread chaos and topple the state".
All of Tuesday's verdicts can be appealed.
Sisi has defended the rulings against his opponents, saying they are part of the judicial process and can be appealed.
But rights groups accuse Sisi's regime of being even more repressive than that of longtime president Hosni Mubarak, who was ousted in the popular uprising in 2011.
(AFP)