---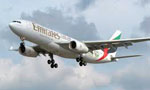 An Emirates flight from Dubai to Sydney was diverted to the Bandaranaike International Air (BIA) Port, Katunayake yesterday evening due to a medical emergency onboard, the airlines said.
A spokesman for the airline said:
"Emirates flight EK412 from Dubai to Sydney on July 15 was diverted to Colombo due a passenger medical emergency."
"The sick passenger was assisted off the aircraft for medical attention. The flight continued to Sydney with minimum delay," the airline said.
The flight carrying 478 passengers and 35 crew took off around 7.30 p.m. yesterday.
"Emirates apologises for any inconvenience. The safety of our passengers and crew is of paramount importance," the spokesperson added.
(Deepa Adhikari)